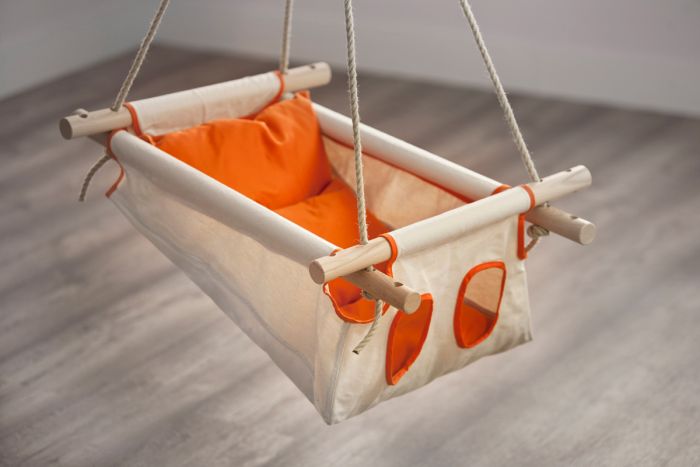 A constant movement of love
Before welcoming them in our world, babies grow naturally «floating» in a protective enviroment that lets them move.
Inspired by this familiar feeling, we created our flagship product: the Kounia Bella baby hammock.
Κounia Bella is 100% handmade, made of all-natural materials so as to hug your little one with extra special care, from birth till the age of 3.
It's ideally designed to follow your baby's growing pace, helping your baby fall asleep easily for hours, and provide a real "playground" for older little children, for long hours of fun.
Kounia Bella grows along with your baby. It will offer your child comfort and relaxation until it weighs about 15 kilos thus it is easily adjusted in length, width and height, depending on the child's age, physique and activity.
It's a relaxed boy! It's a relaxed girl!
Kounia bella is the absolute helping hand for new parents through the extra demanding period that follows birth. Replicating your hug, it lulls and calms even the most restless baby, providing an easy, fast, peaceful, and most of all a long lasting sleep. In other words, it's the absolute perfect companion for a happy family life.
Inclined to care
The peaceful swing of the hammock comforts and soothes baby colic, whilst its inclination helps babies breathe better and prevents reflux.
Everyday fun, fun and fun:
It only takes a little bit of imagination to transform Kounia Bella from a sleep haven into a joyful playground, offering a playful everyday life, depending on your child's needs and abilities.
Older little children can swing by themselves, sliding their feet through the round openings. The hammock is a " creativity school" since it lets the children free to discover their sense of balance, explore their autonomy and expand their fantasy - while having their time of their life, filling your home with their adorable laughter.
It's in its nature:
Kounia Bella loves nature by default.
- It's 100% handmade, of all-natural materials.
-It brings the joy of outdoors indoors, as you can hung it by the ceiling, a door frame or an indoor staircase. And when the weather is good you hang it by a tree, a pergola, or wherever it comes in handy.
-Easily folded, without disassembling, Kounia Bella is light, and can accompany you everywhere tucked easily in its canvas case. Your best friend to your day-trips, scrolls and holidays.
Practicality 1.0.1
Putting your baby easily to sleep and watching your child paly for hours will make you love it. But Kounia Bella offers so much more.
It doubles as a «mealtime chair» when outdoors, coming to the rescue when you are looking for a practical way to feed your little one when outdoors, during holidays and scrolls.
-It plays the part of a baby gym. All it takes is to gently lay the baby on a quilt underneath the hammock and hang a few colorful toys of your choice on the sides of the hammock. Rocking the hammock gently will attract your baby's attention creatively.
- It's an example of practicality and diversity. You can easily hang it by the ceiling, a door, an indoors stairway - you name it.
To move is to grow, to create, to live.
Photo gallery